DAVID DI DONATELLO Movie Award – Event in Rome
April 13th, 2010 by admin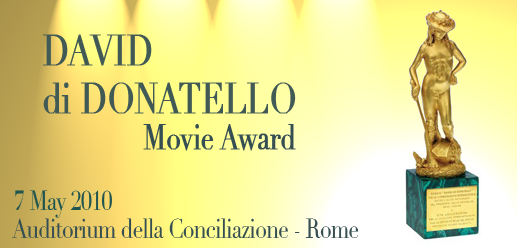 The David di Donatello is an Italian movie award assigned by Ente David di Donatello, part of the "Accademia del Cinema Italiano", for the finest Italian and international cinematic productions according to standards similar to those of the "American Academy of Motion Picture Arts and Sciences". It can be considered as the Italian equivalent of the Academy Awards.
The prize owes its name to the famous statue of the same name, a bronze sculpture created by Donatello around the year 1440. A reproduction is awarded to the winners during the ceremony. This year, the illustrious "David di Donatello" award ceremony will take place in Rome's Auditorium della Conciliazione.
The 2009/2010 season featured excellent titles, great protagonists and touching stories that were intense and entertaining at the same time, the quality of which had not been seen for a while. Judging by the nominations, the super-front runner is Virzì's "La prima cosa bella" that rightfully earned 18 nominations.
The nominees for best foreign film are: Ethan Coen and Joel Coen for "A Serious Man", James Cameron for "Avatar", Quentin Tarantino for "Inglourious Basterds", Clint Eastwood for "Invictus" and Jason Reitman for "Up in the Air".
St. George Rome, a 5 star Luxury Hotel, situated in the rinascimental heart of the capital, a few seconds from Piazza Navona. The hotel offers to its customers some packages with convenient prices like for example the Rome Hideaway Package which includes upgrade to a Deluxe room, full American buffet breakfast, free high speed internet connection wired and via tv and many more things because this is how we picture your Roman holiday!
The Crowne Plaza Rome St. Peter's, 4 star Superior Hotel, located a few steps from the Vatican and from the center of Rome, offers its customers special packages like for example the Wellness Package which includes special discounts on body treatments at the Spa and much more. Don't miss this unique occasion and book now online.
Posted in Events in Rome