MOA CASA: DECOR AND DESIGN EXHIBIT IN ROME
April 20th, 2010 by admin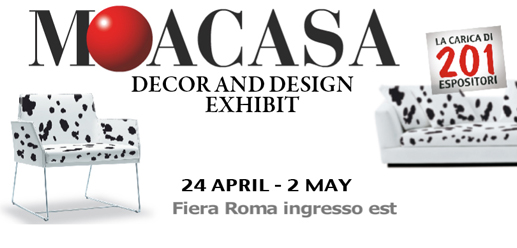 The time-honoured decor and design exhibit, successfully organized for over thirty years, will take place – as always – at the Fiera di Roma from 24 April to 2 May, 2010 with a wide variety of products presenting home decor at 360 degrees. Styles and types will be displayed: from the single, unique piece to coordinates; from classic to design to contemporary as well as that which will dictate tomorrow's trends. It will be divided into four pavilions on an overall surface measuring 30 thousand square metres, featuring over 200 Italian and international exhibitors who will be proposing a preview of new trends in home décor.
An appointment that cannot be missed for all those interested in décor in commercial terms as well as those interested in design and renovation of interior and exterior space as confirmed by the elevated number of visitors which totaled 180,000 last year.
This Trade Fair in Rome is a vast showcase that allows for visitors to take a look at the latest offers and novelties launched purposely for the occasion. New trends and innovations for every room – from the kitchen to the bedroom – because Moa Casa is the leading show in the furniture and décor sector. This is certainly an important opportunity to discover the latest creations in furniture, to get acquainted with brands that are more or less known and to make some great deals. The world of home living is a world in constant evolution and MOACASA moves in harmony with it, promising new experiences, events and paths to explore, capable of promoting the magnificent panoply of décor in its wide variety of expressions, novelties and projects.
This year's MOACASA in Rome will be enhanced by exhibits and convention that take stock of developments in the field of design, new technology and material as well as of handcrafted and contemporary productions.
St. George Rome, a 5 star Luxury Hotel, is situated in the rinascimental heart of the capital, a few seconds from Piazza Navona, Castel St. Angelo and Campo dei Fiori. The hotel offers to its customers some packages with convenient prices for its customers. One of these is the Rome Hideaway Package which includes a welcome cocktail, full American buffet breakfast, a romantic dinner and much more, all available online.
The Crowne Plaza Rome St. Peter's, 4 star superior hotel, is located at a walking distance from the Vatican and from the city center and offers its customers packages like the Wellness Package which includes full american buffet breakfast, 20% discount on body treatments at the Spa and free access to the Bagno Romano, and much more. Don't miss this special occasion, book now for a special stay in the eternal city.
Posted in Exhibitions in Rome