Our World – National Geographic in Rome
April 27th, 2010 by admin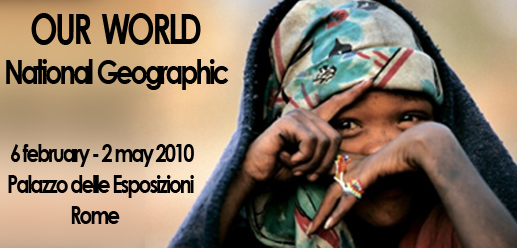 National Geographic photographers have been telling the story of human beings of the world with extraordinary images for over a century. These works are on display in the collective exhibition "Our World" at Rome's Palazzo delle Esposizioni from 6 February to 2 May.
This is National Geographic Italia's third show, following "Water, Air, Fire and Earth" and "Mother Earth", and proposes 90 splendid photos that have not yet been on display by the fine photographers working for the magazine in Italy and throughout the world, telling the story of the human family in the most diverse locations. Feelings, values, moods and lifestyles reveal the great "similarities" between the world's populations and human individuals. These photographs not only make it possible for us to see this, they help us understand, share, stand with and feel for our fellow human beings. These pictures focus our gaze on the world, through good times and bad and help us feel closer to our fellow man.
During the exhibition at Rome's Palazzo delle Esposizioni, there will also be workshops, debates with experts and photographers about main themes of "Our World": environmental impact, global warming, energy development, new resources, nourishment, bio-sustainability and new economy.
St. George Rome, a 5 star Luxury Hotel, situated in the renaissance heart of the capital, a few seconds from Piazza Navona. The hotel offers to its customers some packages with convenient prices like, for example, the Hideaway Package which includes upgrade to a Deluxe room, full American buffet breakfast, free high speed internet connection wired and via tv and many more things because this is how we picture your Roman holiday!
The Crowne Plaza Rome St. Peter's, 4 star Superior Hotel, located a few steps from the Vatican and from the center of Rome, offers its customers special packages like for example the Wellness Package which includes special discounts on body treatments at the Spa and much more. Don't miss this unique occasion and book now online.
Posted in Exhibitions in Rome