MAXXI – National Museum of 21st century arts in Rome
May 4th, 2010 by admin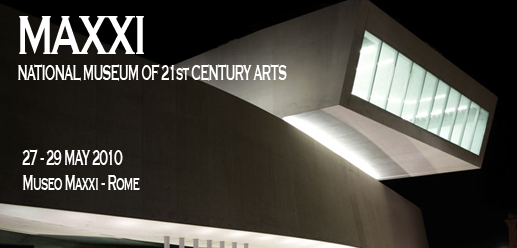 A three-day inauguration for MAXXI, the National Museum of 21st century arts designed in Rome by Zaha Hadid.
At the exhibit, a work by Studio Azzurro, Italian geography will take up a 40 metre wall: an interactive narration of the Italian architecture of the past 60 years, made up of film clips, interviews, photographs and drawings that have been freely reworked and assembled in a spectacular way.
An "ad hoc" section will be dedicated to Elena Giulia Rossi's NETinSPACE project: a voyage that explores the fusions of virtual and physical worlds featuring works by Miltos Manetas, Bianco-Valente, Stephen Vitiello and others. SPAZIO will also include a tribute to Fabio Mauri and two works by Maurizio Mochetti and Massimo Grimaldi for the MAXXI 2per100 contest.
Inaugural exhibits are: GINO DE DOMINICIS, key figure of contemporary art with over 130 works of the entire course of his artistic pursuit.
KUTLUG ATAMAN, one of the most interesting Turkish contemporary artists with eight video works that reflect upon the problematic relationship between the East and the West. LUIGI MORETTI ARCHITETTO, one of the protagonists of 20th century architectural culture. The exhibit will analyse his designs and theoretical activity, a study of his written works and projects.
An installation of light and sculptures by Maurizio Mochetti, defined by the artist as a "barometer of space" will be positioned in the lobby of the Roman museum.
St. George Rome, a 5 star Luxury Hotel, situated in the renaissance heart of the capital, a few seconds from Piazza Navona. The hotel offers to its customers some packages with convenient prices like, for example, the Hideaway Package which includes upgrade to a Deluxe room, full American buffet breakfast, free high speed internet connection wired and via tv and many more things because this is how we picture your Roman holiday!
The Crowne Plaza Rome St. Peter's, 4 star Superior Hotel, located a few steps from the Vatican and from the center of Rome, offers its customers special packages like for example the Wellness Package which includes special discounts on body treatments at the Spa and much more. Don't miss this unique occasion and book now online.
Posted in Exhibitions in Rome