AUDITORIUM PARCO DELLA MUSICA – ROME
May 11th, 2010 by admin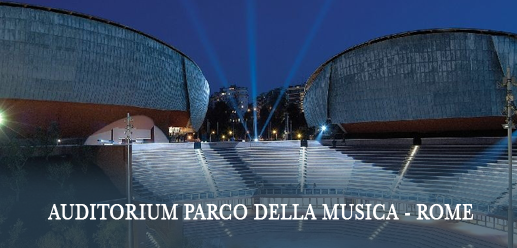 Auditorium Parco della Musica is a well-established entity on the cultural scene of the city of Rome and throughout the country, appreciated for its level of quality as well as for the size of audience it attracts. Over one million people – between spectators and participants at its various initiatives – visit this complex every year. This facility is managed by the Fondazione Musica per Roma "Music for Rome Foundation".
The concerts offered by the Foundation feature symphonic and chamber music and are interwoven with a musical programming that includes many other genres such as jazz, pop, rock, world… Other events like film premieres, theatrical productions, art exhibits and literary performances are also on the playbill. Appointments with festivals and exhibits have become a tradition while the halls are hosting fashion shows, congresses, conventions and encounters of an institutional nature more and more often.
Access to the calendar of events: www.auditorium.com/eventi
St. George Rome, a 5 star Luxury Hotel inaugurated in 2007, located in a streategic position close to the city's most important monuments and streets such as Piazza Navona, Castel St. Angelo and Campo dei Fiori, offers its customers convenient packages for this special occasion. One of these is the Rome 5 nights Special Offer which includes 20% discount on best available daily rate, full American buffet breakfast and much more.
The Crowne Plaza Rome St. Peter's, 4 star superior hotel, located in a residential area on Via Aurelia Antica, walking distance from the luxurious parks of Villa Pamphili and Villa Carpegna ,at 3 km from the Vatican City and from the city center, also offers its customers convenient packages. The Wellness Package which includes special discounts on body treatments at the Spa and much more. Don't miss this special occasion and book now online for a memorable stay in the eternal city.
Posted in Concerts in Rome