ROME OPERA HOUSE 2010 SUMMER SEASON – BATHS OF CARACALLA ROME
June 8th, 2010 by admin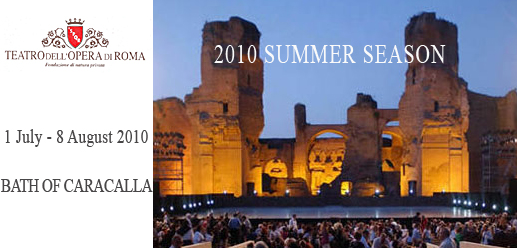 The Rome Opera House is transferring its playbill once again this summer to the evocative archaeological backdrop of the Baths of Caracalla.
The Orchestra, Chorus and the Corps de Ballet of the Rome Opera House will be featured in three new productions with interpreters of the highest caliber.
There are three extraordinary appointments:
Sergei Prokofiev's Romeo and Juliet (choreography by Carla Fracci) 1-6 July;
Aida by Giuseppe Verdi featuring. The Rome Opera Orchestra conducted by Daniel Oren, 15 July- 5 August;
Rigoletto by Giuseppe Verdi . The Rome Opera Orchestra conducted by Donato Renzetti 28 July – 8 August.
While participating at these events, guests will also have an opportunity to tour the Baths of Caracalla enjoying the performances and music in one of the most important places of the history of Rome.
St. George Rome, a 5 star Luxury Hotel inaugurated in 2007, located in a streategic position close to the city's most important monuments and streets such as Piazza Navona, Castel St. Angelo and Campo dei Fiori, offers its customers convenient packages for this special occasion. One of these is the Rome 5 nights Special Offer which includes 20% discount on best available daily rate, full American buffet breakfast and much more.
The Crowne Plaza Rome St. Peter's, 4 star superior hotel, located in a residential area on Via Aurelia Antica, walking distance from the luxurious parks of Villa Pamphili and Villa Carpegna, at 3 km from the Vatican City and from the city center, also offers its customers convenient packages. The Wellness Package which includes special discounts on body treatments at the Spa and much more. Don't miss this special occasion and book now online for a memorable stay in the eternal city.
Posted in Concerts in Rome