THE SHAPE OF THE RENAISSANCE IN ROME
June 30th, 2010 by admin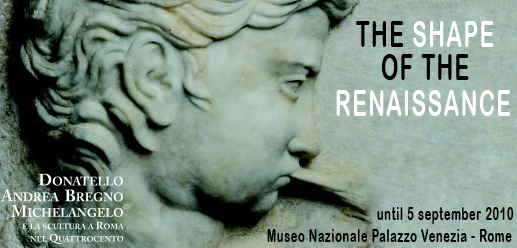 This exhibition, organised by the Soprintendenza Speciale per il Patrimonio Storico (Special Board of Historic Heritage), is showcasing three of the most renowned artists of the 15th century: Donatello, Andrea Bregno and Michelangelo.
Guests will admire a number of important sculptures such as Donatello's Formella featuring angels playing instruments and the spectacular Protome Equina.
A precious high-relief in marble by Michelangelo is also on display for the very first time for the occasion of the exhibit: Eolo or the Vento Marino (Sea Breeze). Other sculptures on display are from the Vatican City's Fabbrica di San Pietro.
St. George Rome, a 5 star Luxury Hotel, situated in the Renaissance heart of the capital, a few seconds from Piazza Navona. The hotel offers its customers some packages with convenient prices like, for example, Rome Hideaway Package which includes upgrade to a Deluxe room, full American buffet breakfast, free high speed internet connection wired and via tv: this is how we picture your Roman holiday!
The Crowne Plaza Rome St. Peter's, 4 star Superior Hotel, located a few steps from the Vatican and from the center of Rome, offers its customers special packages like for example the Wellness Package which includes 20% discounts on body treatments at the Spa, 20% discount on food & beverage at the Restaurant and much more. Don't miss this unique occasion and book online now.
Posted in Exhibitions in Rome