VISIT TO CASTEL SANT'ANGELO IN ROME
July 6th, 2010 by admin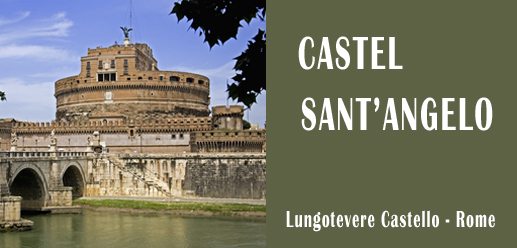 Castel Sant'Angelo is one of the monuments that identifies the history of the Eternal City the most.
It was originally commissioned as a "Mausoleum for Emperor Hadrian", which he had built for himself and his successors. Over the centuries, the building has undergone many transformations: it is a Roman custom to use buildings for different purposes.
The popes converted the structure into a luxurious and well protected residence. In fact, this monument was property of the State of the Vatican City and was connected with it through a secret underground passageway. In the 5th century, it was once again converted into a fortress to defend Rome and included a prison.
The Castle got its name in 590 A.D. when Rome was hit by the plague.Pope Gregory I was said to have had a vision of an angel sheathing his sword atop the Castle as a sign of the end of the plague. The prison of Castel Sant'Angelo is the setting for the last act of Giacomo Puccini's Tosca. The splendid Castle is open to the public to relive the memories of this magnificent building.
St. George Rome, a 5 star Luxury Hotel inaugurated in 2007, located in a streategic position close to the city's most important monuments and streets such as Piazza Navona, Castel St. Angelo and Campo dei Fiori, offers its customers convenient packages.One of these is the Rome 5 nights Special Offer which includes 15% discount on best available daily rate, full American buffet breakfast and much more.
The Crowne Plaza Rome St. Peter's, 4 star Superior Hotel, located a few steps from the Vatican and from the center of Rome, offers its customers special packages like for example the ROME PASS PACKAGE which includes complimentary full american buffet breakfast, Rome Pass Card for 2 adults, free use of buses and metro for 3 days, free entrance in 2 museums or archeological sites and much more.
Don't miss this unique occasion and book online now.
Posted in Exhibitions in Rome