EOLICA EXPO MEDITERRANEAN in Rome
July 13th, 2010 by admin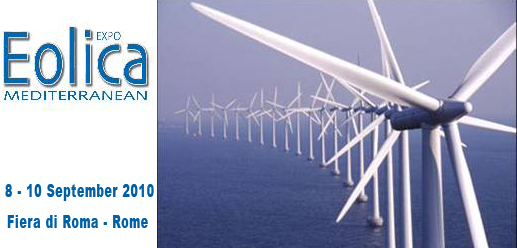 A date on the Trade Fair circuit dedicated exclusively to the world Wind Power. The increasing demand for power and natural resources has brought about an opportunity to intensify research regarding new energy resources.
Wind Power is one of the most important sources and power plants enable remarkable economies of scale. The Eolica Expo Mediterranean at the Fiera di Roma is an international exposition of exceptional value for all companies operating in the sector of Wind Power. Among the many topics featured: technological updates, new regulations, national and international policies being put into effect in favour of the industry of Wind Power and solutions regarding the environmental impact of Wind Power plants. This is an opportunity to take your business to the next level and exchange opinions/ experiences with some of Europe's most important operators.
St. George Rome, a 5 star Luxury Hotel, situated in the Renaissance heart of the capital, a few seconds from Navona Square. The hotel offers its customers some packages with convenient prices like, for example, Rome 4 nights Special Offer which includes 10% Discount on best available daily rate, full American buffet breakfast and and much more. This is how we picture your Roman holiday!
The Crowne Plaza Rome St. Peter's, 4 star superior hotel, located in a residential area on Via Aurelia Antica, walking distance from the luxurious parks of Villa Pamphili and Villa Carpegna, at 3 km from the Vatican City and from the city center, also offers its customers convenient packages. The ROME PASS PACKAGE which includes complimentary full american buffet breakfast, Rome Pass Card for 2 adults, free use of buses and metro for 3 days and much more. This is how we picture your Roman holiday!
Posted in Exhibitions in Rome