Dracula in Love – Gran Teatro – Rome
July 27th, 2010 by admin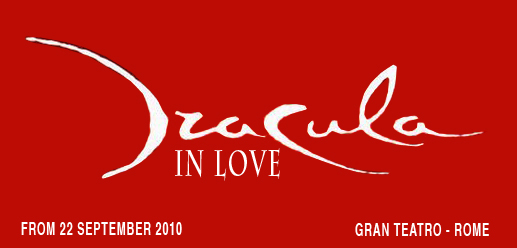 From 22 September, the Gran Teatro in Rome will be playing host to "Dracula in Love", a rock opera based on the masterpiece by Bram Stoker. The show highlights the eternal battle between Good and Evil, and presents a mix of contrasting feelings and emotions that appear to intersect with each other so closely as to resemble love. This is the story of Count Dracula's tormented journey through four centuries in search of the incarnation of his beloved: a marvellous performance, in which the skill of the actors and the dancers/acrobats is sure to leave a lasting impression on the hearts and minds of the audience.
Produced by David Zard, this superb show is directed by Alfredo Arias and features the melodious music of PFM.
St. George Rome, a 5 star Luxury Hotel, situated in the Renaissance heart of the capital, near most important monuments and streets such as Navona Square, Castel St. Angelo and Campo dei Fiori, offers its customers convenient packages for this exhibition.
One of this is Advanced Purchase Rate which includes 15% discount on best available daily rate, full American buffet breakfast and much more.
The Crowne Plaza Rome St. Peter's, 4 star superior hotel near the luxurious parks of Villa Pamphili and Villa Carpegna, at 3 km from the Vatican City and from the city center, also offers its customers convenient packages, like for example Rome 4 nights Special Offer which includes 20% discount on best available daily rate, free parking and much more.
Posted in Exhibitions in Rome