U2 Concert in Rome – 360° tour – Stadio Olimpico
August 3rd, 2010 by admin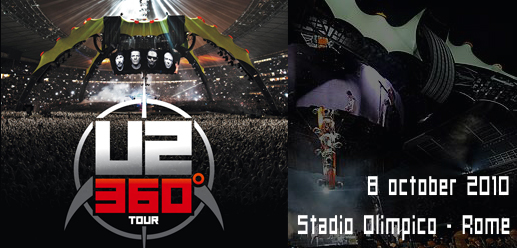 The Olympic Stadium in Rome is gearing up to welcome one of the most spectacular ever concerts of the famous band U2 during their legendary world tour, named after the 360° staging designed by Willie Williams. The incredible supporting platform, with a base measuring 50 metres, will be placed at the centre of the stadium. The structure is in steel throughout, has no back or front, thus offering a 360° view, and will be topped by an HD maxi screen that lengthens and dips, creating a spectacularly acrobatic effect. This giant structure, nicknamed "The Claw", surrounds the stage, allowing the music to spread out in all directions.
This is destined to be a truly unforgettable U2 concert – don't miss it!
St. George Rome, a 5 star Luxury Hotel , located in a streategic position close to the city's most important monuments and streets such as Navona Square, Castel St. Angelo and Campo dei Fiori, offers its customers convenient packages.
One of these is Advanced Purchase Rate which includes 15% discount on best available daily rate, full American buffet breakfast and much more.
The Crowne Plaza Rome St. Peter's, 4 star superior hotel, located in a residential area on Via Aurelia Antica, walking distance from the luxurious parks of Villa Pamphili and Villa Carpegna, at 3 km from the Vatican City and from the city center, also offers its customers convenient packages. The Advanced Purchase Rate 30 which includes 30% Discount on best available daily rate, Free parking and much more.
Don't miss this unique opportunity of combining an exciting holiday in Rome with the musical event of the year.
Posted in Concerts in Rome