SPOSA 2010 Bridal Fair in Rome
August 24th, 2010 by admin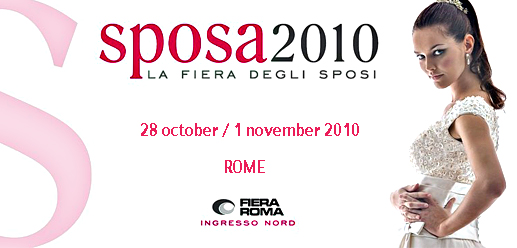 SPOSA 2010 is one of the most important events in the wedding sector in Italy. From 28 October to 1 November, Fiera di Roma will be playing host to this elegant exhibition, creating an enchanting fairytale atmosphere for visitors, especially through the original solutions suggested along the "marriage of the senses" route, in which a spectacle of colours, fragrances and emotions conjures up an idea – both real and virtual – of what a wedding day can be like.
This fabulous event presents both traditional and innovative products: from jewellery to receptions, from exotic travels to fairytale bridal gowns: here visitors will find all this and more for couples who like to keep pace with the latest trends and aim to astound the guests sharing their big day.
St. George Rome, a 5 star Luxury Hotel inaugurated in 2007, located in a streategic position close to the city's most important monuments and streets such as Piazza Navona, Castel St. Angelo and Campo dei Fiori, offers its customers convenient packages.One of these is the Rome 5 nights Special Offer which includes 15% discount on best available daily rate, full American buffet breakfast and much more.
The Crowne Plaza Rome St. Peter's, 4 star Superior Hotel, located a few steps from the Vatican and from the center of Rome, offers its customers special packages like for example the ROME PASS PACKAGE which includes complimentary full american buffet breakfast, Rome Pass Card for 2 adults, free use of buses and metro for 3 days, free entrance in 2 museums or archeological sites and much more.
Posted in Exhibitions in Rome