EXPO EDILIZIA Professional trade fair for Costruction and Architecture
August 31st, 2010 by admin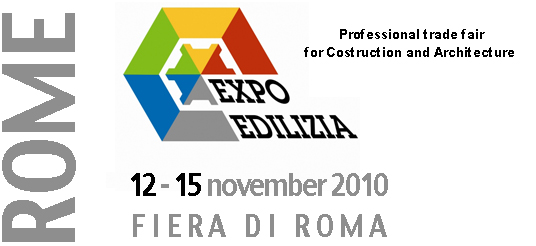 Expoedilizia, the professional exhibition for the building industry and architecture is an unmissable opportunity for all operators in the sector looking for cutting-edge products and solutions with a particular eye on innovation and new technologies. The highlights of the fair programme include conventions, events and study grant awards for architects and engineers. The fair is divided up into a number of theme areas: Flooring and Wall Coverings; Window and Door Frames; Screening and Curtains; Paints and Decorations; Structural Elements; Roofs and Walls; Machines and Equipment; Greenery; Street Furniture; Sports Facilities; Heating and Air Conditioning; Ironware and Tools; IT and Services; Renewable Energies; Safety and Security.
St. George Rome, a 5 star Luxury Hotel , located in a streategic position close to the city's most important monuments and streets such as Navona Square, Castel St. Angelo and Campo dei Fiori, offers its customers convenient packages for this special occasion. One of these is the Rome Extended Stay Special Offer which includes 10% discount on best available daily rate, full American buffet breakfast and much more.
The Crowne Plaza Rome St. Peter's, 4 star Superior Hotel, located a few steps from the Vatican Museums and from the center of Rome, offers its customers special packages like for example the Advance Purchase Rate 30 which includes 30% Discount on best available daily rate, free parking, accommodation  free for 2 children less than 12 years old sharing parents' room and much more.
Posted in Exhibitions in Rome