IAE – Italy Airspace Expo – Fiera di Roma
September 21st, 2010 by admin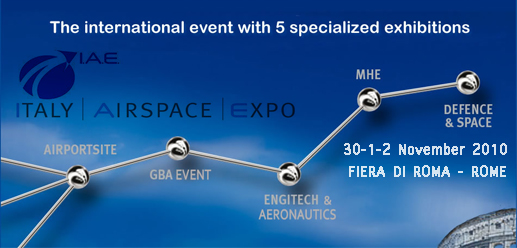 The Italy Airspace Expo is a very important event for the Airspace sector. IAE is an international show dedicated to the world of aviation, space, airports and aerospace defence as well as being the most prestigious international expo to attend in order to learn more about the world of aviation and space. The expo is mainly addressed to the companies operating in these sectors, scholars, universities, entrepreneurs and managers.
IAE is split up into five separate areas: Defence & Space dedicated to defence and safety systems; Engitech & Aeronautics dedicated to aviation research, technology and engineering; General & Business Aviation dedicated to the services pertaining to aircrafts as well as their interior designs; Airport Site dedicated to airport equipment and logistics and MHE, dedicated to helicopters.
St. George Rome, a 5 star Luxury Hotel , located in a streategic position close to the city's most important monuments and streets such as Navona Square, Castel St. Angelo and Campo dei Fiori, offers its customers convenient packages for this special occasion. One of these is the Rome Extended Stay Special Offer which includes 10% discount on best available daily rate, full American buffet breakfast and much more.
The Crowne Plaza Rome St. Peter's, 4 star Superior Hotel, located a few steps from the Vatican Museums and from the center of Rome, offers its customers special packages like for example the Advance Purchase Rate 15 which includes 15% Discount on best available daily rate, free parking and much more.
Posted in Rome Hotel 5 star