INVADER: Roma 2010 & other curiosities
October 5th, 2010 by admin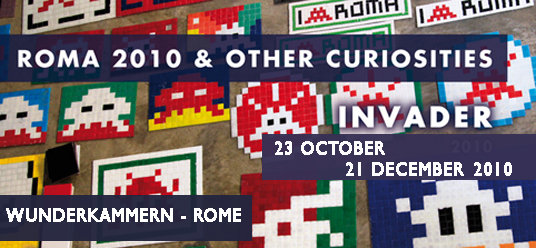 The exhibition space at Wunderkammern will be hosting the personal exhibit of Invader: "Roma 2010 and other curiosities" from 23 October to 21 December 2010.
Invader is an artist who works anonymously. Born in 1969 in Paris, Invader is one of the most important and original international street artists. Several museums and galleries abroad have hosted his work. This marvellous artist is best known for his public works inspired by Arcade Space Invaders, created in Japan in 1978.
St. George Rome, a 5 star Luxury Hotel inaugurated in 2007, located in a streategic position close to the city's most important monuments and streets such as Piazza Navona, Castel St. Angelo and Campo dei Fiori, offers its customers convenient packages.One of these is the Advance Purchase Rate 21 days which includes 12% discount on best available daily rate, full American buffet breakfast and much more.
The Crowne Plaza Rome St. Peter's, 4 star Superior Hotel, located a few steps from the Vatican and from the center of Rome, offers its customers special packages like for example the Advance Purchase Rate 15 which includes 15% Discount on best available daily rate, free parking and much more.
Posted in Rome Hotel 5 star