STING IN CONCERT – ROME
October 19th, 2010 by admin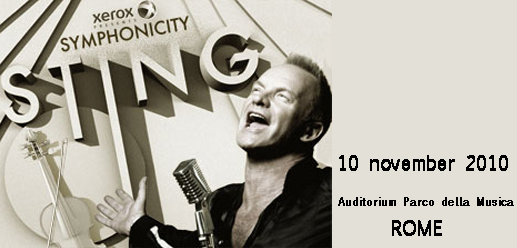 This stop of the artist's world tour is a well-anticipated event in Rome. Sting will be performing on the stage of the Auditorium Parco della Musica accompanied by the Royal Philharmonic Concert Orchestra. "Symphonicity" is the name of this concert and finds Sting performing his greatest hits re-imagined for symphonic orchestra.
The Royal Philharmonic Concert Orchestra will be conducted by Steven Mercurio (Pavarotti, Bocelli).
St. George Rome, a 5 star Luxury Hotel in centre of Rome , located in a streategic position close to the city's most important monuments and streets such as Navona Square, Castel St. Angelo and Campo dei Fiori, offers its customers convenient packages for this special occasion.One of these is the Rome Extended Stay Special Offer which includes 10% discount on best available daily rate, full American buffet breakfast and much more.
The Crowne Plaza Rome St. Peter's, 4 star Superior Hotel in centre of Rome, located a few steps from the Vatican Museums and from the center of Rome, offers its customers special packages like for example the Advance Purchase Rate 15 which includes 15% Discount on best available daily rate, free parking and much more.
Posted in Concerts in Rome