FOR NEW YEAR CELEBRATE AND DONATE AT THE CROWNE PLAZA ROME ST. PETER'S
November 17th, 2010 by admin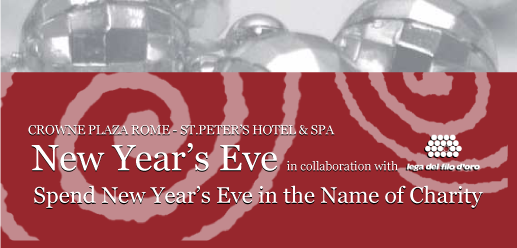 As winter holidays are approaching the time to choose your own way of celebrating New Year has arrived.
The sound of solidarity will be the leitmotiv to this year's celebrations at the Crowne Plaza Rome St. Peter's. If you are looking for a luscious Gala Dinner or a short break in the sparkling Eternal City discover our latest offers for your stay and for donating your contribution to the Lega del filo d'oro.
New Year's eve Gala Dinner
If you have not made up your mind on how to celebrate the arrival of New Year, take a peek at our delicious menu and get ready for a memorable party with music, dancing and live entertainment. To brighten up this celebration with charity and solidarity, part of the revenue will be donated to the Lega del filo d'oro.
Book now and let the party begin!
New Year in the Eternal City
Three days to discover the wonders of the eternal city: plan your time as you wish with shopping, museums, special events and concerts. Furthermore, part of the revenue will be donated to Lega del Filo d'Oro, a charity organisation engaged for more than 45 years in favor of deafblind people. Find out more about our New Year Package and prove your own solidarity.
The offer includes:
– Accommodation in a double room
– Complimentary American buffet breakfast in our restaurant
– New Year's Eve buffet for 2 adults on December 31st with live music entertainment
– Entry to the St. Peter's SPA, including use of the sauna, Turkish bath, heated indoor pool and hydrotherapy pool
– Italian Sparkling wine in room
Posted in Events in Rome, Hotel in rome, Hotel in Rome center, Luxury Hotel Rome, Rome Hotel 4 star, Rome Hotel 5 star, Rome Hotels, Rome Hotels Colosseum