IMPRESSIONISM, EXPRESSIONISM AND AVANT GARDE
March 1st, 2011 by admin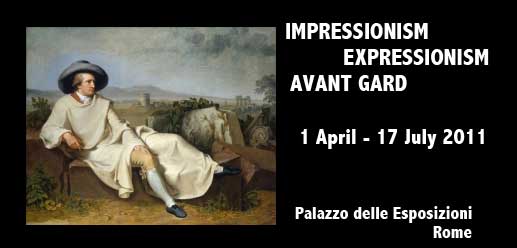 One of the richest and most prestigious European collections of ancient and modern art is in Italy for the first time. The masterpieces on exhibit arrive from the renowned Städel Museum in Frankfurt and feature works by Tischbein, Koch, Corot, Monet, Degas, Renoir, Van Gogh, Cezanne, Böcklin and Feuerbach, leading up to those by Moreau, Redon, Hodler, Munch, Beckmann, Ernst, Klee and Picasso. This exhibition offers an overview of European art history that ranges from the Nazarine movement to the Romantic period as well as Realism, Impressionism, Symbolism and Avant Garde.
St. George Rome, a 5 star Luxury Hotel in centre of Rome , located in a streategic position close to the city's most important monuments and streets such as Navona Square, Castel St. Angelo and Campo dei Fiori, offers its customers convenient packages for this special occasion. One of these is the Rome Hideaway Package:
The package includes:
•    Upgrade to Deluxe room upon availability
•    Full American buffet breakfast
•    Free High speed internet connection wired and via TV
•    Free Pay TV movies on demand and music channel package
•    Welcome Cocktail
•    Romantic Dinner (4 courses tasting menu house wines included)
•    VIP treatments
•    Vat 10% per room per night included in room rate
•    Rate is based on 3 nights stay
•    The package cannot be combined with any other offer
•    Check in time: 15:00 – Check out time: 12:00
City tax 3.00 euro per person per night not included in room rate
The Crowne Plaza Rome St. Peter's, 4 star Superior Hotel in centre of Rome, located a few steps from the Vatican Museums and from the center of Rome, offers its customers special packages like for example the Wellness Package:
The Wellness package includes:
•  Full American buffet breakfast for 2 adults
•  20% discount on body treatments at the Spa and free access to the Bagno Romano
•  20% discount on food & beverage at the Restaurant
•  Rate is based on 2 nights stay
•  Smoking or no smoking, twin or king bed, are requestes and not confirmed.
•  The Hotel reserves the rights to confirm the guest's request
– City tax equal to EUR 3.00 per person per night NOT INCLUDED in the room rate.
Posted in 4 Star Rome Hotel, 5 Star Rome Hotels, Exhibitions in Rome, Hotel in Rome center, Hotel near Vatican City, Luxury Hotel Rome, Rome Hotel 4 star, Rome Hotel 5 star, Rome Hotel near train station, Rome Hotels, Rome Hotels Colosseum, Rome hotels near Pantheon