GLASS IN ROME. Glass during Roman times.
July 31st, 2012 by admin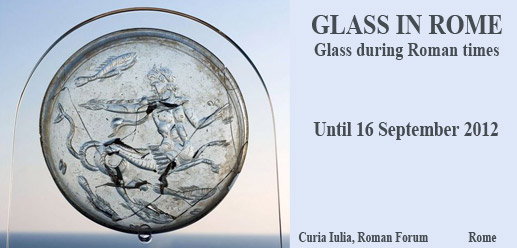 Approximately 300 pieces will be on display at Curia Iulia in the Roman Forum until 16 September. The exhibition features precious ceramics, jewels and mosaics that narrate the period of maximum splendour – beginning with the second century B.C. – of glassworks in the Roman world. The expo is presented in chronological order and traces all techniques adopted in the art of working glass. The most substantial portion illustrates glass production during the Roman Empire and is characterized by the luxurious works created for that society's élite such as the splendid blue tray engraved with  bacchic figures from Albenga. The versatility of glass allows for the creation of the many gems and jewels on display. The exhibit closes with the imperial insignia of Emperor Maxentius found along the slopes of the Palatine Hill.
St. George Rome, a 5 star Luxury Hotel in centre of Rome , located in a streategic position close to the city's most important monuments and streets such as Navona Square, Castel St. Angelo and Campo dei Fiori, offers its customers convenient packages for this special occasion. One of these is the Best of Rome:
Full American buffet breakfast
Free entrance to Vatican Museum and Sistin Chappel avoiding the cue
Welcome Cocktail
20% Discount on SPA on body treatments
Vat 10% per room per night included in room rate
Rate is based on 3 nights stay
The package cannot be combined with any other offer
Check in time: 15:00 – Check out time: 12:00
City tax 3.00 euro per person per night not included in room rate
The Crowne Plaza Rome St. Peter's, 4 star superior hotel near the luxurious parks of Villa Pamphili and Villa Carpegna, at 3 km from the Vatican Museums and from the city center, also offers its customers convenient packages, like for example the Advanced Purchase Rate 25:
The above rate includes:
25% Discount on best available daily rate
10% VAT
Free parking
Rate is bookable until 7 days prior to arrival date
Total stay will be charged on client credit card at time of booking. The booking is not refundable in case of cancellation
Children policy: Accommodation is free for 2 children less than 12 years old sharing parents' room
Breakfast not included
Check in time: 15:00 – Check out time: 12:00
– City tax equal to EUR 3.00 per person per night NOT INCLUDED in the room rate.
Posted in 4 Star Rome Hotel, 5 Star Rome Hotels, Accomodation in Rome, Concerts in Rome, Events in Rome, Exhibitions in Rome, Hotel in rome, Hotel in Rome center, Hotel near Vatican City, Luxury Hotel Rome, Rome Hotel 4 star, Rome Hotel 5 star, Rome Hotel near spanish steps, Rome Hotel near train station, Rome Hotels, Rome Hotels Colosseum, Rome hotels near Pantheon