EMILIO ISGRÒ. Modello Italia (2013 – 1964)
July 30th, 2013 by admin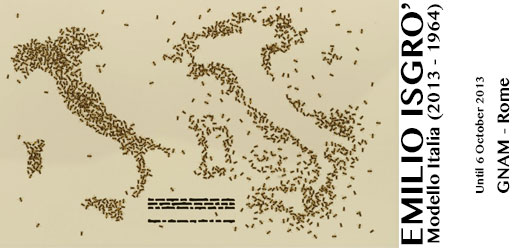 Emilio Isgrò is one of the most illustrious and best-known names on the international art scene of the second half of the 20th century and the early 21st century. Rome's National Gallery of Modern Art (GNAM) is dedicating an extraordinary exhibition to this great Italian artist, painter, poet and playwright. The intention of this "exposition in reverse" is to display and demonstrate how relevant Isgrò's work is today as well as to observe how closely his latest works are linked to his first ones. The spectacular and complex installations of his latest period are made up of elements which had been outlined as far back as the 1960's – 70's with themes and early sketches that were developed and elaborated. The show opens in the halls located on the museum's ground floor and features works created in the last five years while a selection of the artist's best known works are on display on the floor above: Volkswagen (1964), Jacqueline (1965), Enciclopedia Treccani (1970) as well as the first Libri cancellati (Erased books), Telex, Semi d'arancia (Orange pits), Particolare ingrandito di Gianni Agnelli (Enlarged detail of Gianni Agnelli) up until the harrowing Ora italiana (1985) inspired by the Bologna massacre.
St. George Rome, a 5 star Luxury Hotel in centre of Rome , located in a streategic position close to the city's most important monuments and streets such as Navona Square, Castel St. Angelo and Campo dei Fiori, offers its customers convenient packages for this special occasion. One of these is the Best of Rome:
Full American buffet breakfast
Free entrance to Vatican Museum and Sistin Chappel avoiding the cue
Welcome Cocktail
20% Discount on SPA on body treatments
Vat 10% per room per night included in room rate
Rate is based on 3 nights stay
The package cannot be combined with any other offer
Check in time: 15:00 – Check out time: 12:00
City tax 3.00 euro per person per night not included in room rate
The Crowne Plaza Rome St. Peter's, 4 star superior hotel near the luxurious parks of Villa Pamphili and Villa Carpegna, at 3 km from the Vatican Museums and from the city center, also offers its customers convenient packages, like for example the Advanced Purchase Rate 25:
The above rate includes:
25% Discount on best available daily rate
10% VAT
Free parking
Rate is bookable until 7 days prior to arrival date
Total stay will be charged on client credit card at time of booking. The booking is not refundable in case of cancellation
Children policy: Accommodation is free for 2 children less than 12 years old sharing parents' room
Breakfast not included
Check in time: 15:00 – Check out time: 12:00
– City tax equal to EUR 3.00 per person per night NOT INCLUDED in the room rate.
Posted in 4 Star Rome Hotel, 5 Star Rome Hotels, Accomodation in Rome, Concerts in Rome, Events in Rome, Exhibitions in Rome, Hotel in rome, Hotel in Rome center, Hotel near Vatican City, Luxury Hotel Rome, Rome Hotel 4 star, Rome Hotel 5 star, Rome Hotel near spanish steps, Rome Hotel near train station, Rome Hotels, Rome Hotels Colosseum, Rome hotels near Pantheon