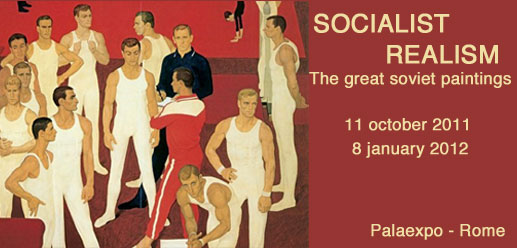 Socialist Realism The Great Soviet Paintings 1920-1970: is the most thorough collection of this movement ever to be presented outside of Russia. The exhibit outlines the development is Socialist Realism from the last stages of the Civil War to the beginning of the Brezhnev Era. The movement ended in the early 1970's since after that the official Soviet artistic trends took on various incoherent directions to the point that the cultural dominance of the Socialist – Realism movements were definitively extinguished.
St. George Rome, a 5 star Luxury Hotel, situated in the Renaissance heart of the capital, near most important monuments and streets such as Navona Square, Castel St. Angelo and Campo dei Fiori, offers its customers convenient packages for this exhibition. One of these is the Advanced Purchase Rate:
The above rate includes:
15% Discount on best available daily rate
Full American buffet breakfast
Vat 10% per room per night included in room rate
City tax 3.00 euro per person per night not included in room rate. Children up to 2 years old exempted
Rate is bookable until 7 days prior to arrival date
Total stay will be charged on client credit card at time of booking. The booking is not refundable in case of cancellation
Check in time: 15:00 – Check out time: 12:00
The Crowne Plaza Rome St. Peter's, 4 star Superior Hotel in centre of Rome, located a few steps from the Vatican Museums and from the center of Rome, offers its customers special packages like for example the Visit Rome Package:
The package includes:
Complimentary full american buffet breakfast for 2 adults
VAT in included
20% discount on Food & Beverage
Choice of one City Tour between the Vatican museums and the Sistina Chapel, a tour of Rome or Rome by night.
Minimum stay of 3 nights
– City tax equal to EUR 3.00 per person per night NOT INCLUDED in the room rate.